Skip to Content
Theatre Three
Address
2800 Routh St, #168
Dallas, TX 75201
Phone
(214) 871-3300
Box Office Hours of Operation
Tuesday-Sunday: Noon – 5:00 PM
On Performance Days: Noon – Curtain
Directions
Theatre Three is located in the heart of Uptown Dallas in the Quadrangle – a shopping center and office tower at the corner of Routh and Howell Streets. You will find us in the courtyard of the Quadrangle in between The Dream Café, MoMo's and Sigel's.
2800 Routh St Dallas, #168, TX 75201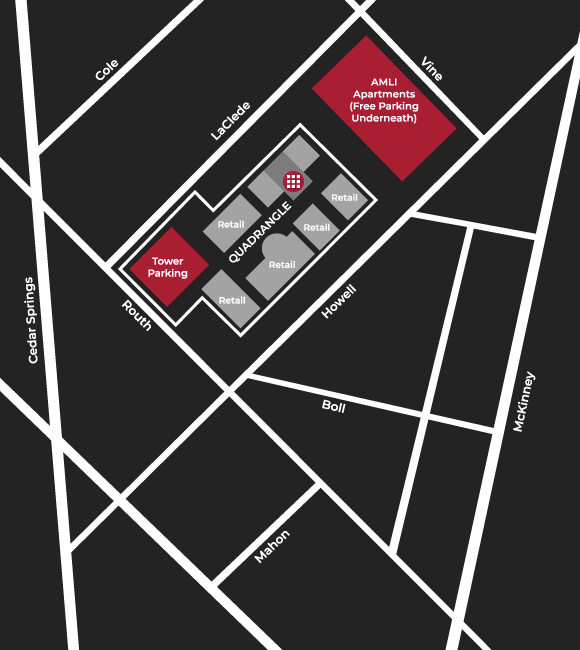 Parking
Theatre Three patrons have two options for parking:
PARK FREE in the Quadrangle Tower parking garage (under the Quadrangle's office tower – entering down the drive just off Routh Street on LaClede.) Parking spaces in this well-lit garage are always plentiful but you may not park in any space marked RESERVED. After parking, guests ride up in the tower elevator to the lobby and exit into the fountain courtyard, right next to the theatre. On your stroll enjoy the beautifully lit fountains, the enhanced, colorful plantings and the popular indoor-outdoor Italian dining spot, MoMo's. In order to use the elevator after the performance, patrons need to hit the buzzer marked "Theatre Three".
VALIDATED PARK FREE in the Amli Quadrangle Garage (on the ground floor underneath the Amli Apartments on the end of the Quadrangle furthest from Routh Street). Theatre Three patrons will be validated for 5 free hours (validate parking at the Box Office). Enough time to have dinner and see the show! The short stroll from that parking takes you past the popular indoor-outdoor American dining spot, Dream Café.
To avoid towing, please park in areas that are not marked for other retail shops.
Accessibility
Theater Three offers wheelchair accessibility for our patrons. Please contact the box office at 214-871-3300 for information on seating. Theatre Too is NOT accessible. Patrons with limited mobility wishing to see a show in Theatre Too should contact Wesley Farnsworth or Angelica Rollins 214-871-3300 ext 1.
Theatre Three has begun a partnership with the Deaf Action Center to provide interpreted performances for our deaf and hard of hearing patrons. Please call us for more information!
Contact Us
Please do not submit ticketing questions here. Call or email the Box Office.