Skip to Content
Author and Artist Enrichment
Theatre Three illuminates the human experience with exemplary, intimate theatre by nurturing authors, artists and audiences. We work to bring you workshops and spaces for authors and artists to grow in their respective crafts. Learn more about our current programs below.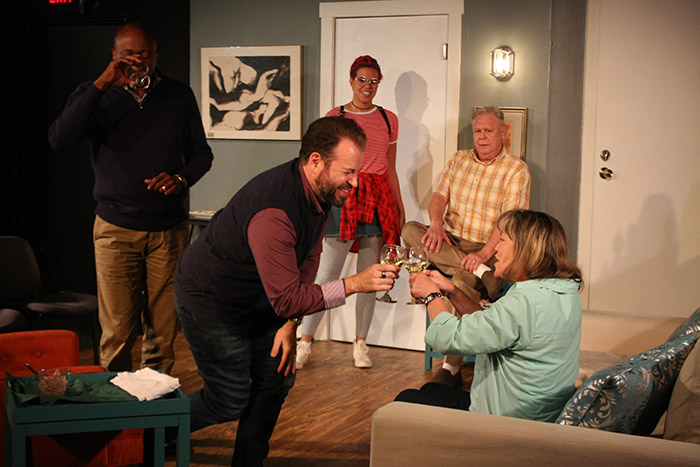 The National Michael Chekhov Association Workshop provides adult actors, professional and novice, an opportunity to learn more about the art and science of acting. Explore the acting technique developed and taught by master acting teacher and actor Michael Chekhov. The workshop will be led by highly respected actor and NMCA certified teacher, Gail Cronauer, one of the most respected actresses and acting teachers in the Dallas-Fort Worth Metroplex.
Current Courses Available:
September 15 – October 20, 2018 (Level One)
May 11 – June 22, 2019 (Level One)
January 12 – February 16, 2019 (Level Two)
Read, rehearse, develop and host staged readings of your latest works in a professional space. We offer the use of our downstairs Theatre Too space for playwright use for two-day sets. One day for rehearsal, the other a reading for an invited audience of your choosing.
Follow your unconscious wherever it leads with the Writing Out of Your Mind Workshop. This three-day writing workshop leads writers through the process of writing a full draft in a week! Whether you have an idea for a story or not, we'll help you get it down on paper.
Summer Internships
Summer Internships are open to high school and college students. Interns work at Theatre Three for a 4-6 week-long session between June and August. This is an unpaid internship that may be applied towards course credit or educational volunteer service credit.
Theatre Three's 2019 Summer Theatre Camp registration is officially open! T3Teen, formerly known as Musical Theatre Academy at Theatre Three, is now in its 5th year of being an immersive theatrical experience for young DFW talent ages 13-18. T3Teen is proud to allow young, local talent to explore the full professional theatre experience from rehearsal to performance within the safety of Theatre Three.
T3Teen summer programming begins on June 17, 2019 and runs through June 29, 2019 at Theatre Three (2800 Routh St., #168, Dallas, TX). Campers will have the opportunity to work alongside local Dallas theatre professionals and put on a full production 10 Ways To Survive The End Of The World, A Short Comedy by Don Zolidis, on the T3 stage that will be open to the public.
T3 Talks
It's part of our mission to challenge our audiences with provocative and engaging works. One way of fulfilling that is by producing art that is intended to start a dialogue. Each performance, we are bringing audiences the opportunity to have a post-show discussion with Cindee Mayfield. Come join the conversation!
Join Us for a Show Today!