Skip to Content
Monday Night Playwright
We're turning Theatre Too into a space dedicated to fostering local playwrights and developing new works! These projects are not necessarily reflective of Theatre Three's artistic vision; however, we want to provide a place for artists to develop their work.
Develop Your Work in Our Downstairs Space
Got something that you've been working on? Need to hear it out loud? Our new Monday Night Playwright series encourages you to read, rehearse, develop and host staged readings of your new works. We are offering our downstairs Theatre Too space for two days. Day One would be rehearsal and Day Two a reading for an invited audience of your choosing. We would charge $100 for facilities fees and because we are trusting you with our space, we also require two letters of recommendation.
Playwrights Would Have Access To:
Restrooms
Green room with attached dressing room
Music stands and chairs
House lights for rehearsal
Basic lights up/lights down light plot for the reading if desired
T3 will have TABC certified staff member present to sell concessions for reading.
One social media post about your event from us!
Dramaturgical Bonus Package:
Need an additional eye to give notes before your play goes public?  Want assistance contextualizing or defining the world of your play?  How about guidance in formatting your work to industry standards, clarifying your intent to actors, or creating conversations about your play in the community? How about a pre-workshop consultation with professional Dramaturg, Haley Nelson? An additional $100 (T3 exclusive) would be charged for this package. Which includes:
2 read-throughs of the script
an hour and half meeting the week before your reading
For more information about Haley check out her website www.haleynelson.me.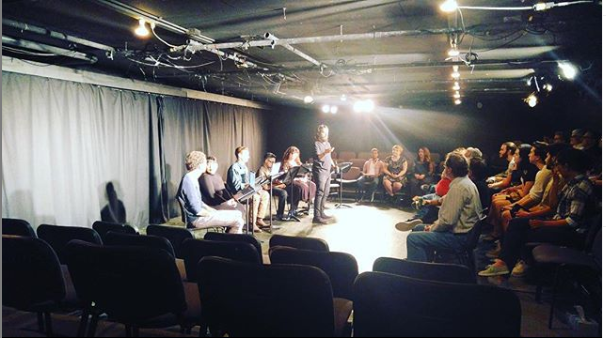 Event dates:
August 26, 2019
September 23, 2019
October 14, 2019
November 18, 2019
December 16, 2019
For more information and availability, contact Sarah Barnes, Company Manager, at sarah.barnes@theatre3dallas.com.
Join Us for a Show Today!