Skip to Content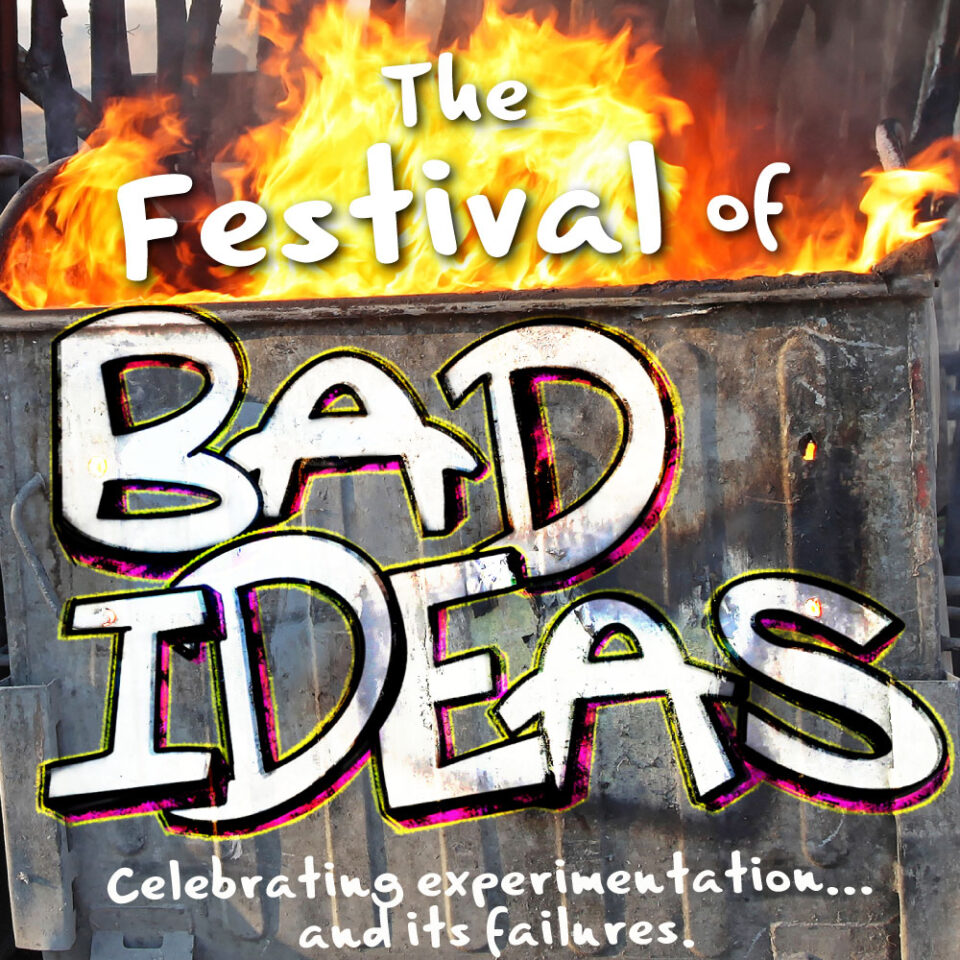 Theatre Three challenges DFW artists and creatives to think outside-the-box and submit a performance piece (however "wrong" or "bad" an idea you might have) for the first annual The Festival of Bad Ideas! The festival will run in the newly renovated and restored Theatre Three space in the Quadrangle.
"This is all about experimentation and risk taking across all disciplines of the performing art– whether dance, theater, music, vaudeville, burlesque, comedy etc.," encourages Artistic Director Jeffrey Schmidt. "It's an opportunity to dream out loud. To be clear though, we're looking for highly skilled artists with a vision for something new, exciting and maybe a bit dangerous or sexy. Dilettantes need not apply."
Associate Artistic Director Christie Vela adds, "I like to use the term STRONG AND WRONG when I'm directing and with my acting students. I also always ask them, 'How can you find the right thing to do unless you do try all the wrong things first?'"
Frequently Asked Questions
When you say "Bad Idea," what do you mean exactly?
It can be a monologue, a scene-let, a musical number, a dance number, a vaudevillian situation, any form of performance art. Think old-school cabaret. There are very few limitations. However, we ask that you keep it under 10 minutes. We also ask that you don't harm anybody.
How dangerous is too dangerous?
There's a fine line. We want the environment to be physically safe so that you can feel safe to take intellectual risks. Dare to do/say something dangerous! Pitch your idea and we'll work with you/let you know if we go past that line.
When it comes to pitching my idea, what do you mean by "shark tank" presentations? Are there any required materials? 
"Shark Tank" is an American television program where a panel of potential investors listen to entrepreneurs pitch ideas for a business or product they wish to develop. In this case Jeffrey and Christie will listen to your ideas for a performance.
You'll have ten minutes  in your video presentation. Be prepared to articulate what you want and even demonstrate or perform part of your act. We want to know the who, what, why and how.
 Where do I submit my presentation?
theatrethree2800@gmail.com
When are presentations due?
January 23, 2023
How many people can participate in my bad idea? 
Up to you, but it must be within reason to accommodate all the acts that will be part of the festival. 
Will I direct my own piece? 
Yes. You are your own producer. Theatre Three is the presenting organization. Jeffrey and Christie will serve as Executive Producers stitching all the show's components together into a wild and bizarre evening of cabaret-style acts. The week before opening all the acts will be teched with multiple dress rehearsals of the entire show.
Will I need to pay anything?
Nope!
Will I get paid?
We're offering micro-grants or a portion of the box office, whichever ends up being more profitable for you.