Skip to Content
… of the stage.
If you have been listening to our podcast UPTOWN DRAMA we have been hearing some of the antics that can happen during a show from an actor perspective. We decided to ask some of our stage management alumni, the folks in black aka the chief ninjas, for some of the craziest moments they have had backstage.
Most crazy stories can be filed into three categories:
Actor Mishaps
We just did a show about this category, Noises Off, it is all one big actor mishap story. Thankfully we have better stage managers than the ones in that play.
A decade ago I was a baby stage manager. I had been living between New York City and Texas and only working in New York. I somehow hustled my way into a now-defunct respected theatre in midtown and was fortunate to hold an intern/ASM position under a badass stage manager. On the day of first preview, we held our first of six understudy rehearsals. The understudies rehearsed with each other, switching out roles. These guys were pros. As a 22-year old, I was impressed by their ability to slide into another actor's role so easily. In the first ten minutes of rehearsal, I beelined over an actor everyone had been talking about, to hand off his props before his first entrance. "Oh, no no no I can't hold a prop right now," he said, putting his hand up. "I'm still holding the script; I can't have all those props yet."A propless Jasper stepped onstage for the first time, took a deep and confident breath, and…looked down at his script. And now we are concerned because HE is the understudy who has both absurdly talkative lead male characters. Cool. We reported this to the producer, who took a day to receive it and a day to solve it, but in the end Jasper stayed on, and we held our breaths.
WELL GUESS WHAT.
The lead actor (the younger of the two) felt ill, we learned at half-hour, which is the last possible moment we could've known. I called Jasper.
"Hi Jasper, this is Michelle Foster, from the Ibsen show?"
"Hello?" It was loud in the background.
"Can you hear me?" I said.
"Yes! Sorry about the noise; I'm at a festival in Times Square with my fiancé!" said the understudy.
"Okay this is the ASM for Ibsen and we will need you to go on tonight. Please head this way immediately."
"……What?"
"Chad is sick. We need you to go on," I said.
"Oh." He started to panic. "I can't do it. I just really can't," he said, his voice growing louder.
"Get on the train, please. I'll see you when you get here."
Ten minutes later, the SM team met Jasper at the door. The stage manager produced a pink highlighted script, which he read furiously. We all head into a green room . He is repeating "I can not do this. I'm so sorry but I can't do this. I don't know the lines." We got him fully ready while his castmates enthusiastically ran lines with him. It wasn't going well. As the house lights dimmed, I checked his props were in the appropriate hands, and the play began. Backstage, I grabbed his shoulders and looked him in the eyes. We shared a deep breath. He nodded, breathed again, and made his entrance. With a pink highlighted script. – Michelle Foster, Stage Manager of Dracula and The Armor Plays
Some times the inciting incident is very similar but with different outcomes.
One Saturday morning I got a call saying our lead actor was at the doctor's office and could I call the guy who had played the part in the original production a few years ago (8 hours before curtain).  At this point in my career my actor rolodex was not as extensive as it is now and I had to call around to get contact info for him.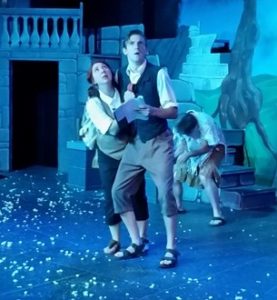 The original actor couldn't do this run due to a conflicting show that happened to be THAT night. So at four hours till curtain we had an ensemble member start studying the script. This is at a smaller non-union theatre and understudies are rarely hired. The lead tells us he is going to try to go on. One hour till curtain the lead shows up and he is having such vertigo he can hardly get to his dressing station without getting woozy. So Ensemble actor tries on the costume (it fits despite a significant height difference), we send the lead home in an Uber, the fight captain starts readjusting and cutting fights, I start readjusting all the transitions the 2 actors were a part of. At half hour we are doing an extensive fight call in the back parking lot. We discovered 1 fight and a couple of in character transitions that cannot be covered by another actor. SO I throw on a costume or 2 and go on for those parts. The audience that night was great. The show is pretty whacky so the blunders along the way were taken in stride with all the other gags. It is definitely one of my most memorable moments in my career. – Sarah Barnes, Company Manager and Freelance Stage Manager
I was the calling stage manager for a dance concert. In the last 10 minutes of the program, one of the principle dancers got a major nosebleed. They were choreographed to spend almost the entire time on-stage and flat out refused to delay or step out of the program. Because their choreography also involved quick exits/entrances (they run into the wings, then run back on 2-3 seconds later), and because I knew the choreography really well, I asked my ASMs to stand in the wings prepared for the dancer. Every time he came off stage, they handed him clean paper towels and tissues. He would wipe his face, toss the tissues into a trashcan that the ASMs were holding, and then continue on with the choreography. He managed to dance the entire rest of the concert and got minimal amounts of blood on his costume. Great Success. – Lauren Volz, Stage Manager of Foxfire and Noises Off
Tech Going Awry
This category is probably the largest source of stories. The stories you hear will show just how much ingenuity and preparation a stage crew must have (with the Stage Manager at the helm of course).
One time while doing a show in grad school- UMKC, we were doing a show with automation, where for the big song at the end of the show, the house rotates to show the inside. It's a big scene with furniture.  Thankfully we had a back-up plan if we had issues with the automation. One night, as fate would have it the house started to turn and then stopped mid-turn. As planned, 3 crew people- myself included. Ran onstage from each side. We grabbed needed furniture pieces and then carried them to the spots further downstage while the actors did a bit of improv to cover the moment. It was super crazy and had every one's hearts racing. – Laura Berrios, Stage Manager of Funny, You Don't Act Like a Negro
We were doing The Whipping Man at the Kansas City Rep. The show takes place in a bombed-out mansion at the end of the American Civil War. All of our scene changes happened in true black outs (due to projections on moving panels) and it rained onstage for the bulk of the show. One night, I went to do our first scene change. For some reason, I lost my footing and I had two options. Either land in the upstage rain catch and most likely break my leg, or attempt to leap across the hole in an almost complete blackout. I chose the second option. By the grace of the theatre God's I made it across. After the scene change I was asked how I pulled it off. To this day I thank Dionysus for ballet training. Lol my only explanation is that I guess I was a cat in a former life. – Renee Dessommes, Stage Manager of Once and Self-Injurious Behavior
We noticed a part of the set broke during one of the first dance numbers in the first act, so during a busy, loud moment two numbers later – had to wait for a lot of noise –  I ran on and secured the loose piece of scenery. It was exhilarating.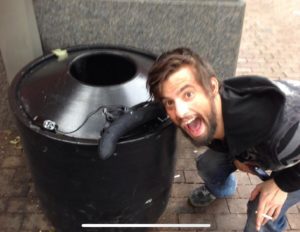 During intermission We also choreographed a moment for Drew Wall (pictured above) to go onstage during a song in Act II leading up to the finale and unscrew it from the deck so the scenery piece could move and become a hot air balloon basket. – Stew Awalt working on ON THE EVE
This was a concert style performance of Sondheim's Sweeney Todd (A collaboration with Uptown Players and the Turtle Creek Chorale), and so the scenery was mostly exposed risers with chorus members standing on them and flying scenery to denote location. Amidst all the murder and chaos of Act II our Joanna's mic dies. At this point she is "hiding" center stage from Sweeney. I was calling the show from the wings of the stage and flying scenery in and out. I found a window between moving scenery and before Joanna's next line to crawl under the maze of risers from the back to the downstage center platform she was on coming out behind the piano. Startling both her and a few chorus members, I managed to change her batteries then quickly crawl back before the next fly cue. – Charlie Beavers, Executive Director and freelance Stage Manager
Audience Interactions
This category has fewer stories as our interactions with patrons is generally minimal.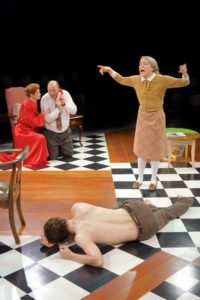 We were doing How the Other Half Loves. The show takes place in two households at the same time. One of the characters is a very nervous person. At one point she runs screaming from one house and into the other. The actor would run offstage one side of the stage and come onstage another. The entire time screaming (you could track her progress audibly). One night an audience member stood up at that moment and also screamed at the top of her lungs for the whole path. She then left the audience and went to the restroom. With this particular set we did not allow any late seating. When our front of house staff would not let her back in she screamed in the lobby. After a moment and a bottle of water she calmed down her husband came out and they left the show. We never really found out what caused her to have the reaction but it was a fascinating night for all. – Sarah Barnes
These are just some of the stories we have in our arsenal. Ideally every show would go smoothly and as planned. The story would be told and the audience would be moved.  Sometimes everything backstage is on fire (sometimes literally) and onstage things are still going according to plan. As they say the show must go on.