Skip to Content
Kicking off a series of blogs from our staff during this time of isolation is our Executive Director Charlie Beavers.
……
I am sure that many of you have seen this image. Like me, I am sure that it brought a reassuring smile to your face. The kind of smile that only the promise of a better tomorrow can offer in these uncertain times. While I do not want to diminish that smile or erase your hope, I would like to take a sincere look at the reality the arts and culture industry is facing.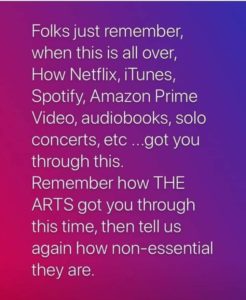 Over the past few weeks, and more intensely over the last several days, I have listened to webinars and read countless articles from arts and culture professionals and academics on how the Covid-19 pandemic is already impacting this industry. Of all the things I have read, my mind keeps being drawn back to this recent article from the Washington Post[1]. The eerie truth that my mind is drawn to is in the later part of the article's title: The arts will recover from the coronavirus, as they did after 9/11, But they might look a lot different… "But they might look a lot different."
With the current course we are charting, there is likely to be a severe disruption to the arts ecosystem. For most arts organizations, but especially the performing arts wherein attendance is integral to the art form, our most essential revenue source has been precluded from us.
Now that I have been a "Debbie Downer," I would like to go back to this image which inspired me to write this blog. THE ARTS WILL GET US THROUGH THIS!
What I am concerned about, and what most artist administrators are worried about, is what are you doing to help the arts and artists get through this?
Times are hard and your A-list celebrities will continue to bring in residual income as we binge watch our favorite movies and TV shows throughout this pandemic. Your neighbor who is an actor, painter, and/or dancer has had their gigs cancelled. Organizations, like Theatre Three, are now struggling more than normal to get by long enough to re-employ these artists when this is all done. For your local arts and culture creators this is not simply inconvenient, this is detrimental, and I worry that without sufficient community support the local and regional arts will suffer.
If this sounds like something that shouldn't concern the average person, you are gravely mistaken. It takes this ecosystem of local/regional artists, teachers, and administrators to generate the pipeline of talent to create these pieces of art that are now sustaining your soul through a global crisis. Theatre Three is an essential part of this pipeline for North Texas and has been for 6 decades. Without your support these teachers seek other work, that student isn't exposed to great art early, and within a short period the cultural offerings at the national level deteriorate from a lack of appreciation and accessibility.
So, I leave you with this- Revel in the arts, we all need the cathartic relief they provide us, BUT be challenged to go out and support your local artists. A donation to a local arts group or paying for the CD of an indie musician can go a long way to make sure that the arts survive alongside the rest of humanity.
[1] https://www-washingtonpost-com.cdn.ampproject.org/c/s/www.washingtonpost.com/entertainment/museums/the-arts-will-recover-from-the-coronavirus-as-they-did-after-sept-11-but-they-might-look-a-lot-different/2020/03/19/40e97950-6934-11ea-b313-df458622c2cc_story.html?outputType=amp